Gasmet's New Portable FTIR Gas Analyzer
GT5000 Terra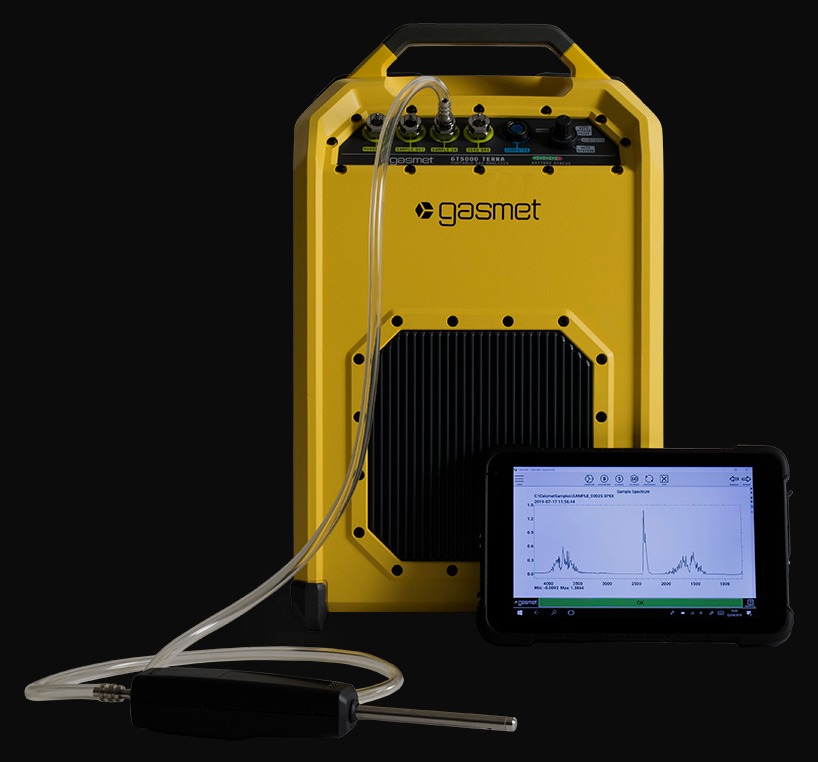 The GT5000 Terra represents a next-generation gas analyzer combining high technology with ease of use and true robustness. This analyzer is specifically designed for demanding and active field and on the go use. It is lightweight and compact meaning that it can be easily carried as a backpack to the field with minimum effort. What is more, the analyzer allows simultaneous gas measurements while on the go.
Calcmet Software
The software is a key to a good user experience. The analyzer is operated by a Windows tablet running the Calcmet Easy software with a clear, visually pleasing and intuitive design. Thanks to the user-friendly interface, this powerful gas analyzer does not require hours of training to master the instrument.
Key Features of the GT5000 Terra
Technical superiorities
9.4 kg with battery
Splashproof, IP54 rated
Wireless connectivity
Remote operability
Designed to resist vibrations
Internal battery and sample pump
Visually pleasing and easy-to-use software
GT5000 Terra Gas Analyzer is Where Portability Is Key
GT5000 Terra is ideal for bringing your lab to the field. In addition to soil measuring, it is an extremely dexterous tool for toxic gas monitoring in shipping containers, indoor air quality monitoring in laboratories and production facilities, and toxic gas monitoring for first response professionals and fire fighters, for example.
The device is designed to match the criteria for gas and emissions monitoring in very dynamic and active environments, i.e. in the field and on the go. As all Gasmet portable gas analyzers, GT5000 Terra is based on FTIR technology, which can measure up to 50 gases simultaneously in just a few seconds.  Below are the brochure and Technical datasheet.
Gasmet GT5000 Terra Technical Datasheet (ID 10233)
For more information, please visit Gasmet website: www.gasmet.com  or contact us at sales@ipsa.com.my.
Thank you.